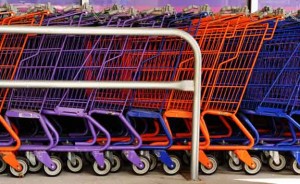 We all like to shop. And what better way to support CAGNO than to purchase items from our store. All proceeds go directly to help support CAGNO.  Please make your selection from the categories below.
"The Many Faces of Breast Cancer"
This book was written by 18 breast cancer survivors in the Greater New Orleans Area ranging in age from 27 to 79. They are wives, lawyers, mothers, grandmothers, artists, educators, nurses and business women, and they represent various types and phases of diagnoses. This book opens a window to these women's most intimate thoughts and experiences and they give insight into what guided them through their initial diagnosis and treatment. This book has evolved and was executed purely as a resource to fellow breast cancer patients and their families.
Orders can be taken by phone, at the CAGNO office, or online.  The cost for the book is $10.00.  Shipping and handling included.
Carol R. Rosenberg Note Cards
Six widely acclaimed paintings by award-winning artist, Carol R. Rosenberg, are now available as note cards. The note cards, which come five in a pack and are blank inside, cost $10 plus $1.50 for shipping. Use them to say "thank-you," "hello," "get well" or whatever else your heart desires. All proceeds from the note cards are donated to cancer research and services in memory of Carol R. Rosenberg. Order online today!
| | | |
| --- | --- | --- |
| | | |
| "Cat" Note Cards | "Plant" Note Cards | "Beauty" Note Cards |
|   |   |   |
| "Duck" Note Cards | "Home" Note Cards | "Sailing" Note Cards |
Online Shopping
Shop online and raise money for your favorite charity!
To shop on ebay click the icon above or click here.