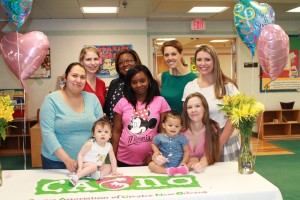 Local Moms Celebrate a Smoke Free Lifestyle
[Back Row from Left: Darla Dupree, Makesha Judson (March of Dimes), Michelle Burtch (March of Dimes), Ashlee Menke (CAGNO, Baby & Me admin.) Middle Row from Left: Melanie Contreras, Terri Collins, Sherri Heim, Front Row from Left: Baby Madilynn and Baby Shay]
Recently, several local moms gathered at the Slidell Memorial Hospital-Community Outreach Center to celebrate their commitment to remain smoke free. These moms decided it was time to kick the nicotine habit when they became pregnant. All were participants of the Baby and Me Tobacco Free Program. They enjoyed a "Fresh Spring" luncheon while spending time bonding and supporting each other's hard work to raise their children in a tobacco free environment. At the end of the luncheon, they each were given a well-deserved congratulatory gift basket with items for both mom and baby.
The Baby & Me Tobacco Free Program is a direct service evidenced-based, incentive-based smoking cessation program to help pregnant women quit smoking and remain smoke-free post-partum. The Cancer Association of Greater New Orleans (CAGNO), a United Way agency, began accepting applications for the program in July of 2013, and is delighted that they are contributing to the delivery of new healthy babies!
The March of Dimes Louisiana Chapter and AmeriHealth Caritas Louisiana, a Medicaid managed care plan serving Louisiana and part of the AmeriHealth Caritas Family of Companies, awarded a grant to CAGNO to implement the Baby & Me Tobacco Free Program. This is the first program of its kind in the state of Louisiana. The Baby & Me Tobacco Free model program has received national acclaims for its effectiveness in decreasing the number of women who smoke during and after pregnancy. Smoking during pregnancy is known to cause birth defects, premature births, low-birth weight babies and sudden infant death syndrome. Quitting smoking greatly reduces the health risks on the mother and the baby.
Women who are pregnant and trying to quit using tobacco or who quit smoking upon becoming pregnant are encouraged to call and enroll in this free program. It is open to any participant living in St. Tammany parish or the Orleans area regardless of income. Women who enroll in the program are assisted in quitting smoking and remain smoke-free after the baby is born. In addition, participants can receive FREE diapers for up to 6 months post-partum.
CAGNO offers this program in St. Tammany, Orleans and Jefferson parishes. This program is gaining success due to collaborations with local agencies and through the support of community partners. Slidell Memorial Hospital – Community Outreach Center, the St. Tammany Community Health Center WIC Clinic in Slidell, Camellia City OB/GYN, the Slidell Pregnancy Help Center and St. Thomas Community Health Center (New Orleans) have all assisted with finding and referring clients to the program.
"This program is the best kind of investment: a small amount of funding that results in long-term benefits for children and parents, safeguarding against poor health outcomes now and in the future. Every child deserves the chance to grow in a safe and healthy environment. I hope Louisiana's leaders recognize the benefit and potential of the Baby and Me Tobacco Free Program and do their part to support its growth," said Ashlee Menke, Health Education Director for CAGNO and Baby and Me Tobacco Free program administrator.
The Baby & Me Tobacco Free Program is provided through a Prematurity Prevention Sponsorship from AmeriHealth Caritas, which enabled the March of Dimes Louisiana Chapter to offer a grant to address risk factors contributing to poor birth outcomes in Louisiana. AmeriHealth Caritas Louisiana is part of the AmeriHealth Caritas Family of Companies, one of the largest organizations of Medicaid managed care plans in the United States.  AmeriHealth Caritas is a majority-owned subsidiary of Independence Blue Cross; Blue Cross Blue Shield of Michigan holds a minority interest.
The mission of the March of Dimes is to improve the health of babies by preventing birth defects, premature birth, and infant mortality.
For more information on participating in the Baby & Me Tobacco Free Program or referring women into the program, contact Ashlee Menke at the Cancer Association of Greater New Orleans at (504) 733-5539.