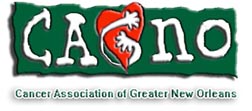 The Cancer Association of Greater New Orleans Promotes Cancer Survivorship through Education, Patient Services and Research. With a mission is to assist local cancer patients and their families by providing support that will enable them to continue their treatment
Since 1958, the Cancer Association of Greater New Orleans has been the local leader in the fight against cancer. CAGNO, a non-profit United Way community impact partner, prides itself in protecting and defending the community against cancer through education, outreach, research and assistance of needy cancer patients. CAGNO is a partner agency for the United Way of St. Charles, United Way of St. John, United Way of Tangipahoa, United Way of Southeast Louisiana, United Way of South Louisiana and United Way of Washington. CAGNO's service area includes:
Jefferson
Orleans
Plaquemines
St. Bernard
St. Tammany
Tangipahoa
St. Charles
Washington
Assumption
Lafourche
St. Mary
Terrebonne
St. John the Baptist
CAGNO's patient services program provides vital prescription medications and necessities to cancer patients who otherwise would have to do without. These include individuals who do not qualify for government assistance and cannot afford medical insurance. Those necessities crucial to the comfort and recovery of local cancer patients include chemo-therapeutic agents, antibiotics, anti-nausea and pain relieving medications as well as colostomy supplies, bed pads and other sick room equipment.
CAGNO strongly believes that education is a key tool in lowering cancer incidence and mortality in the Greater New Orleans area. By offering a variety of classes in cancer prevention to area schools and businesses, CAGNO is successfully achieving this goal.
By supporting CAGNO, you are ensuring the continued success of these programs. If you would like to donate to CAGNO, please click here.
Thank you for joining CAGNO in the fight against cancer.
Link to 2015 CAGNO Financial Statements (Audit) 990 CAGNO 2015
CAGNO is a United Way community impact partner

CAGNO is a member of the
Combined Federal Campaign
Live in the state of Louisiana and
and are at least 34 years old want
want to quit smoking? Click the
link above. By registering you can
receive free stop smoking medication.
View our Twitter and Facebook Page by clicking
on the icons above.